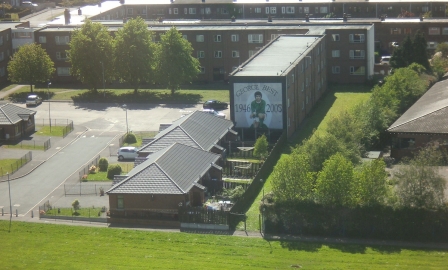 The Cregagh Estate, in the Castlereagh Council area of East Belfast, is characterised by a mixture of high rise and flat roof housing together with local shops and a Post Office. It's a settled community, with many older residents having lived in Cregagh for most of their lives. At the heart of our estate is a new school with a youth and community wing and a football pitch, the result of extensive community campaigning.
Research and findings
Cregagh Community Association has been working with the Community Foundation for Northern Ireland (CFNI) since 2008 and runs the
Communities in Action
(CiA) project. Our Community Association relies entirely on volunteers.
There are five people in our CiA focus group including a working mum and a tradesman competing for house renovation work in a shrinking market. Our discussions have revealed a range of issues and concerns affecting the community as a whole including the cost of heating the home and putting food on the table, lack of information and anxiety about expected benefit changes and mental health issues, including suicide.
Our findings show that the cost of home heating is proving prohibitive for many people in our community. The local petrol station has installed a home heating oil pump and business is brisk, despite the fact that buying oil by the drum is more expensive, because people can't afford to fill their tank.
It's Tuesday today, and I'm sitting with no heating until Friday, until I get paid, that's the bottom line. It's gas heating, I put £20 in last week, it's not enough.
People are also cutting back on the weekly shop where they can. There is widespread anxiety about the expected changes to the benefits system and this is affecting people's health.
Impact
Through CFNI Communities in Action funding, the group has been able to increase access to benefits advice on the estate by buying in additional hours from a specialist advisor. Pensioners' lunches are connecting neighbours and reducing social isolation amongst older residents. The lunches are made from scratch by Committee members and local volunteers and everything is done on a budget with special deals being negotiated with local shops.
The group is now planning 'cooking on a budget' sessions along with information on money management and where to go for debt advice. The Post Office has recently started selling oil saving stamps and the group is looking at ways of raising awareness of the scheme, including leafleting all the households on the estate.
For more information on the CiA project in Cregagh, contact the CFNI Communities in Action project officer, Geraldine Wilkins.