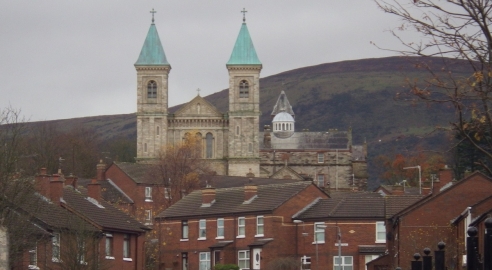 Ardoyne is a residential area in North Belfast. North Belfast is sometimes described as 'a patchwork of small communities, often separated by walls and peace lines, in which people have an intense sense of belonging'. The majority of people living in this 'patchwork' landscape of communities are from different national, religious, economic and social backgrounds.
Historically, Ardoyne has been faced with numerous challenges due to years of conflict. This has impacted on the women, children and wider community within our area. Ardoyne is currently ranked nine of 582 wards in regards to multi-deprivation (NIMDM 2010) with one being the most deprived. Such deprivation is manifested in the high proportion of residents with little or no educational qualifications, low economic activity, high generational unemployment, high levels of low self-esteem and confidence along with health problems.
Watch our film 'Surviving on the edge' and find out more about the issue of debt across all the Community in Action projects. You can also view our new film 'Hopes and Dreams' made by young people about the impact of the digital divide.
These films are the copyright of Grace Women's Development Ltd and the CiA Collaboration.
Research and findings
GRACE Women's Development Limited in Ardoyne is one of eight community groups taking part in the Communities in Action collaboration.Our catchment group is mainly women from Ardoyne, although other users from the surrounding areas of Cliftonville, Marrowbone, Old Park and New Lodge have also been facilitated by the group.
Our Community in Action focus group members consist of men and women aged 23 - 61 years of age. The majority of them are unemployed and fall into the following categories: single parents, long term unemployed, widower, pensioner and a part-time worker.
Through analysis of the evidence gathered during community conversations our members decided to focus on the following themes: Debt, Cost of living increase and Fuel poverty. With the support of the PSE our group produced a short film highlighting a single parent's account of how she was struggling presently before the cuts.
The community evidence also suggests there is clearly a lack of communication concerning the cuts. The fact remains that people are not aware of all the forthcoming welfare changes and their implications.
Impact
Our film on debt was used as a lobbying tool by CFNI in Stormont. Our group plans to produce further films highlighting different individual stories.
Our group also decided to publish local newsletters on a quarterly basis focusing on the key welfare reform issues. We produced our first issue in April 2013 highlighting the Bedroom tax. It was delivered to 1000 homes in the local area.
For more information on the Community in Action project in Ardoyne contact Sally Smyth.